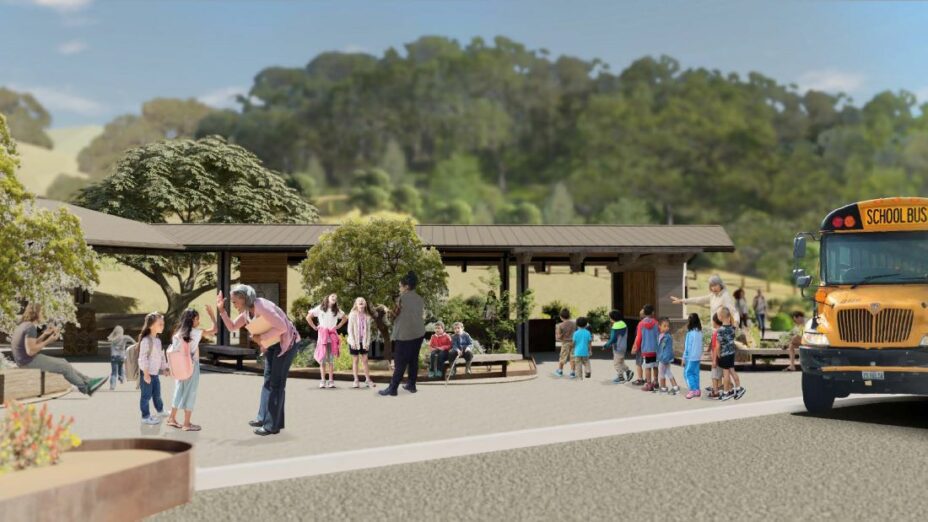 ---
If you are a regular visitor to Mount Diablo, it is likely that you have entered the park at some point via Mitchell Canyon. If so, you know that the time has come to replace the 25-year-old portable trailer that currently serves as its visitor center.
The all-volunteer nonprofit Mount Diablo Interpretive Association (MDIA) is now leading a campaign to build a new ADA-compliant Education Center in Mitchell Canyon. The new building will greatly increase access to the park and its programs for everyone.
At 1,500 square feet—slightly larger than a typical classroom—the newly designed center will be especially beneficial for local school children, who will have an enriching space to visit for field trips.
For nearly 50 years, MDIA has provided stewardship of Mount Diablo State Park and its visitors. Save Mount Diablo is grateful for MDIA's work, including the effort to build this new Education Center at Mitchell Canyon. Our two organizations regularly collaborate on various conservation projects.
The new Education Center will incorporate a large outdoor pavilion and expanded indoor space to house permanent and rotating exhibits. Located at the Mitchell Canyon entrance, it will be an easy, flat one-mile drive from the City of Clayton.
And it will include ample space for school bus turnarounds and parking. These new benefits will greatly increase access to local students—many of whom have yet to experience the beauty of this local outdoor recreational space.
Designed by LEED-certified Ware Architects, the new Education Center's energy-efficient, environmentally responsive design will serve as a model for other structures located in urban-wildfire interface zones—a consideration of increasing importance because of California's expanding fire season.
Generous early investment in this project demonstrates broad interest in making the vison for a new Education Center a reality. Since starting a fundraising campaign last fall, MDIA is already more than a quarter of the way towards their goal.
MDIA is extremely grateful for contributions from their Board, individuals from throughout the community, and nonprofit partners including Save Mount Diablo and Mt. Diablo Audubon Society.
MDIA continues to seek private and public grants as well as individual gifts, which will be essential to meeting our campaign's $3 million goal.
Please visit MDIA.org to see the scope of activities MDIA sponsors as well as a full description of the proposed new Education Center and ways you can support the project. You can make a donation online.
Email MDIA at MCEC4me@gmail.com for more information.
Top: Art depicting the proposed new visitor center. Courtesy of Mount Diablo Interpretative Association