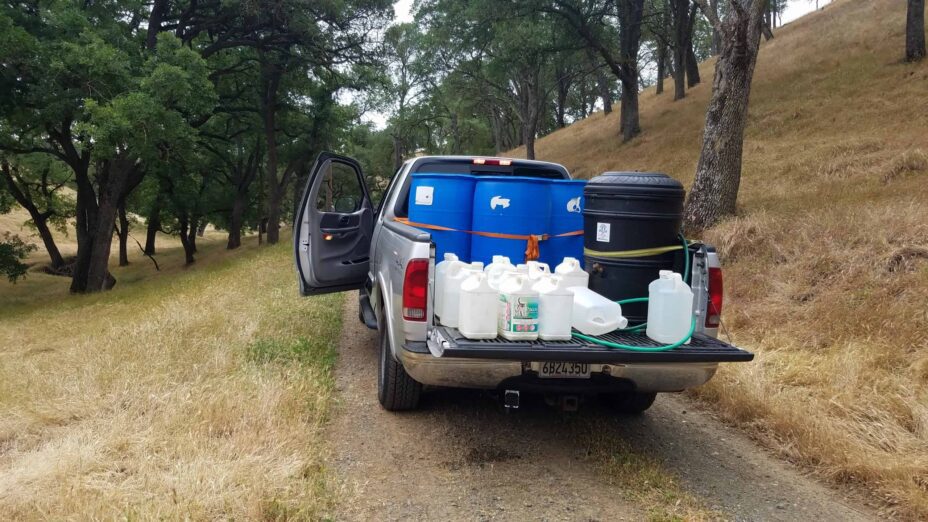 ---
With Save Mount Diablo's stewardship workdays and other regularly scheduled programs canceled because of COVID-19, we were short on help for our busiest time of the year in land stewardship fire abatement and watering activities.
Fire Abatement
Fire abatement takes all of May and requires mowing a defensible space along fence lines, roads, and structures.
Vegetation must be less than three inches high for 10 feet on either side of main roads.
All this work must be done by May 31 every year as required by East Contra Costa Fire Protection District (ECCFPD), Contra Costa Fire Protection District, and San Ramon Valley Fire Protection District. Most of our properties are located within ECCFPD.
Although we had to rely heavily on contractors this year, we also had help from three determined volunteers: Carol Lane, Tom Jones, and John Van Heertum, who followed proper protocol for safety.
Because fire abatement is an essential task that must be performed before May 31 every year, and our volunteers were well experienced with weed whipping and the work, we found it acceptable to allow our three volunteers out to clear out the fence lines at Oak Hill Lane and Big Bend.
Watering Tree Plantings
And with the dry spells in between the late rains, our watering team (Giselle Jurkanin, Dana Ellingson, Pete Ellingson, Owen Lee, and Suzanne Beck) has been taking care of the young plantings at the Marsh Creek 1 and 7 and Ang restoration sites.
While we have a reliable pump station at our Marsh Creek 1/7 property, we must truck in water for the Ang restoration sites.
Watering in the summer is a necessary step to ensure we do not lose sprouters that may have started this year. Our stewardship watering crew waters once every three weeks and makes sure to give each valley oak, buckeye, and red willow planting a good drink of water…more than 250 plantings total.
We truly appreciate and thank our dedicated volunteers for the help!
Join Our Volunteer Crew: We Depend on You!
Given limited staff, resources, and time, Save Mount Diablo depends on volunteers to take organizational effectiveness from excellent to exceptional. Save Mount Diablo seeks to connect a passionate community to our mission, cultivating a sense of ownership and proficiency in every volunteer position offered.
Whether you want to help with restoration and stewardship, build and maintain trails, help with events, assist in the office, lead hikes, or advocate for us, there's a place for you. For more information, check out Save Mount Diablo's volunteer opportunities.