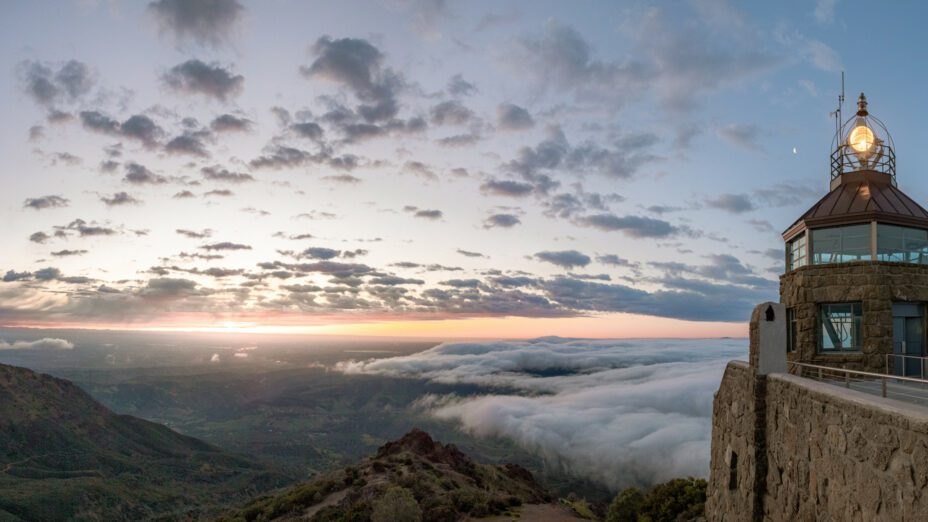 ---
Looking for a new way to summit Mount Diablo?
Experience a great way to reach the top of Mount Diablo via this scenic route. Hikers travel through a variety of ecosystems on their way to the top, experiencing the many ways in which the mountain changes with elevation.
Most of this route is made up of infrequently traveled single-track trails, making this hike an excellent opportunity to harmonize with nature in the backcountry of Mount Diablo.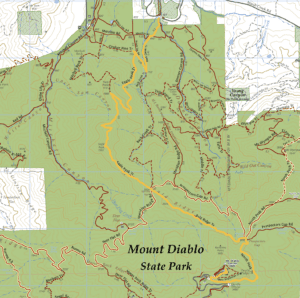 Distance: 11 miles
Elevation change: 3,523 feet
Difficulty: Very challenging
Hiking time: Seven to 12 hours
Trail surface: Single-track trail
Best seasons: Spring and fall
Managing agency: California State Parks
Hours: 8 AM to sunset
Parking: Mitchell Canyon Visitor Center or in designated areas along Regency Drive (there is a $6 parking fee at Mitchell Canyon)
Trailhead location: Back Creek Trailhead
Description:
This route starts on the Back Creek trail, travels over Eagle Ridge, and traverses the North Peak trail. On the way to the summit, hikers experience stunning panoramic views at Eagle Peak and North Peak that can only be reached on foot!
After starting on the Back Creek trail, switch back onto Bruce Lee Road; after about 200 yards you'll reach the Eagle Peak trail. This is where you'll start seeing some of the most beautiful views in Mount Diablo State Park.
Expect little shade and expansive views while taking the Eagle Peak trail over Eagle Ridge. Here you'll be able to summit Eagle Peak at 2,369 feet above sea level. Eagle Peak provides a bird's eye view of both Mitchell Canyon and Donner Canyon. On clear days, it's even possible to see all the way to San Francisco!
Once you get to the end of the Eagle Peak Trail, keep going onto the Bald Ridge Trail. You'll stay on this trail until reaching Prospector's Gap, where you'll head onto the North Peak trail.
At this point, you're close to the summit. Continue up this trail until reaching the Summit trail. By then you'll be able to see the Beacon at the top of Mount Diablo.
Once you're at the summit, enjoy the 360-degree views of the Bay Area and beyond. On a very clear day, you can see Mount Shasta!
Take a minute to appreciate your achievement and check out the visitor's center while you're up there; there's a small museum that chronicles the history of Mount Diablo in the tower.
On the way up, keep an eye out; all sorts of birds are visible on this route. Mount Diablo has over 150 known species of birds that have been observed throughout the mountain.
This is a popular spot for birding enthusiasts for a reason. Hikers can see everything from hummingbirds to peregrine falcons here.
This route takes you through most of Mount Diablo's biomes, starting in the riparian (streamside) habitat of Donner Valley; it takes you through oak woodlands and chaparral shrublands on the way to the top.
This is a difficult route that's generally isolated and very exposed to the sun, so make sure to be prepared and dress accordingly. Depending on the time of year, it can be more than 100 degrees or covered in snow at certain points.
Check out our regional trail map to learn more.
Top photo: View from the summit and the Beacon during sunrise by Floyd McCluhan