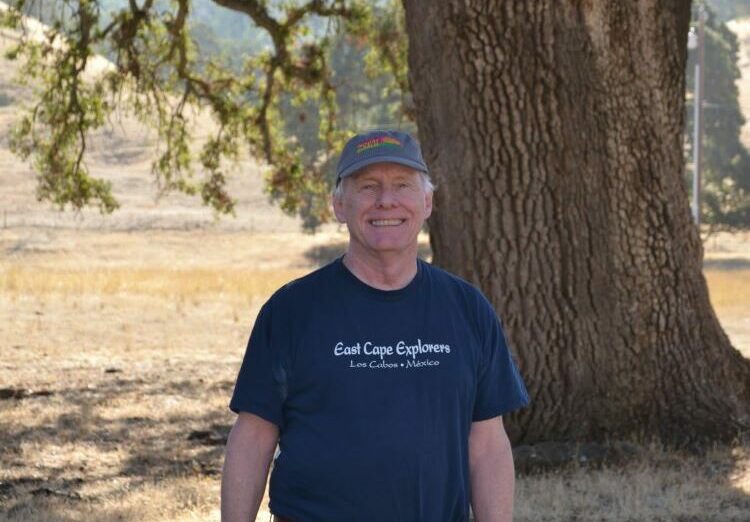 ---
Interviewed by Haley Sutton, Land Stewardship Associate
How long have you lived in the Bay Area?
Lifelong resident (65 years).
How did you learn about Save Mount Diablo?
I think I started getting newsletters back in 2005 or 2006 after riding in the Mount Diablo Challenge.
When did you start volunteering with us, and why did you get involved?
I started volunteering on DiRT days in 2020. I had recently retired and was looking for a constructive way to give back to the community.
I grew up in Concord and Clayton. As far back as I can remember, Mount Diablo has been a fond presence looming up on the horizon.
Towards the end of my high school years (at Clayton Valley High School), my family lived off Mitchell Canyon Road. I had a great view of Mount Diablo from my bedroom window!
Back in the early 2000s, for over 10 years, my friends and I had a New Year's Day tradition of hiking to the summit of Mount Diablo from Regency Gate or the Mitchell Canyon trailhead. I think the toughest day hike I ever did was a loop that included Twin Peaks, Eagle Peak, Mount Diablo summit, North Peak, and Mount Olympia.
Seems like Mount Diablo has been an important part of my life for many years, and volunteering with Save Mount Diablo is a way to help protect and preserve an amazing landmark.
Which Save Mount Diablo programs are you involved in?
So far, DiRT days.
What do you enjoy about the volunteer work you do?
I always seem to learn something new about the flora and fauna at the locations. Working with the other volunteers is always a positive experience.
What is the most challenging project you've worked on as a Save Mount Diablo volunteer?
I would have to say habitat restoration at Marsh Creek 6.
How do you spend your time beyond your volunteer work with us with us?
I try to walk at least two to three miles every day. Day hikes in Briones, Las Trampas, the Oakland hills, Mount Diablo. Occasional backpacking trips. Lately I've been trying to get back into riding my bicycles (road and mountain) more regularly.
Prior to retirement I worked in site acquisition for wireless telecommunications, managing the process of leasing, zoning approvals, building permits for cell sites in the Bay Area and northern California.
Join Our Volunteer Crew! We Depend on You
Given limited staff, resources, and time, Save Mount Diablo depends on volunteers to take organizational effectiveness from excellent to exceptional.
Save Mount Diablo seeks to connect a passionate community to our mission, cultivating a sense of ownership and proficiency in every volunteer position offered.
Whether you want to help with restoration and stewardship, build and maintain trails, help with events, assist in the office, lead hikes, or advocate for us, there's a place for you. For more information, check out Save Mount Diablo's volunteer opportunities.