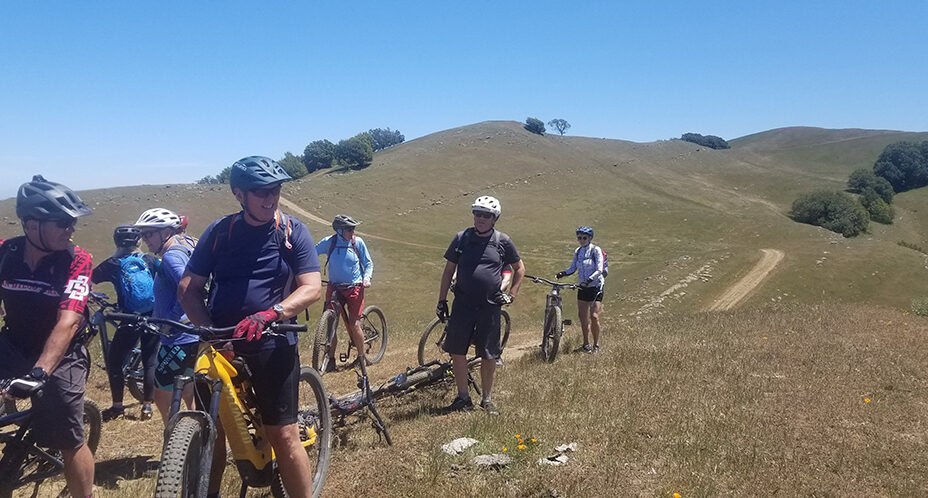 ---
On May 13 and 14, we hosted our first Two Days Diablo mountain-biking event. Throughout the weekend, 12 participants left civilization behind to journey through uninterrupted wilderness.
The first day of the event led participants from Morgan Territory Regional Preserve to our property, Curry Canyon Ranch—there they enjoyed a delicious dinner with assorted wines and beer. After that, they enjoyed music and stories from local experts.
Just a few miles away from the hustle and bustle of the San Francisco Bay Area, our group enjoyed a two-day break from their busy lives.
Led by our Executive Director Ted Clement and Land Programs Director Sean Burke, the group rode through the 31-mile Diablo Trail. The trip concluded at Howe Homestead park in Walnut Creek—ending our inaugural Two Days Diablo trip.
In those two days our group covered land owned by East Bay Regional Parks, California State Parks, and Save Mount Diablo.
Those with varying levels of mountain biking expertise were able to make the most out of this experience. While they traveled, they had a lot of fun as a group in the wilderness.
This was a truly unique cycling event. Participants concluded the journey with a new perspective of the Diablo Trail and its history.
Throughout this two-day experience, they deepened their connection with Mount Diablo. As they rode through the backcountry, they ultimately came away with a new perspective of a place so close to home for them.
"Save Mount Diablo's inaugural Two Days Diablo, a backcountry bike and 'glamping' trip, was a terrific and fun success.
"In a totally unique and beautiful way, the event got mountain bikers connected to, and educated about, the land and Save Mount Diablo's mission. Participants learned to ride like a conservationist. We look forward to putting this event on for years to come," said Executive Director Ted Clement.
Our first Two Days Diablo event was an overwhelming success, and we're excited to be holding it again next year!
If you would like to attend next year's Two Days Diablo, please email Brit Hutchinson or call 925-947-3535.