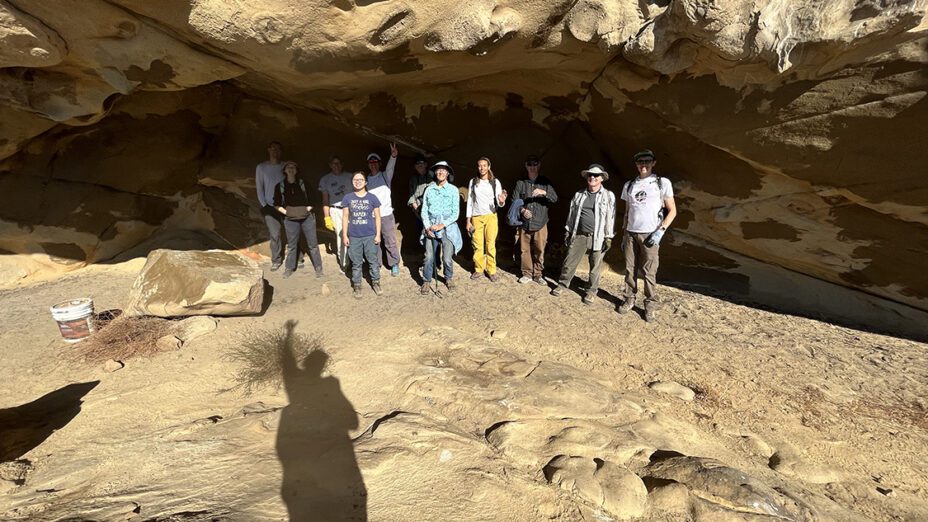 ---
Written by Haley Sutton, Land Stewardship Associate
Giving Back to the Mountain
This year our Pine Canyon Cleanup was a two-day affair held at Mount Diablo State Park. Volunteers supported wildfire management efforts on Friday and cleaned up Castle Rock on Saturday.
On the first day, volunteers gathered at Curry Canyon Point and walked along Knobcone Point Road to where Mount Diablo State Park staff have been thinning and piling branches in the surrounding area.
Volunteers worked with state park staff to relocate branches to the chipper as part of a greater wildfire preparedness plan.
For the second day, volunteers met at two locations in the state park and Diablo Foothills Regional Park/Castle Rock Regional Recreation Area.
They removed graffiti and litter from within and around Castle Rock.
The graffiti was painted over in a color that resembles the rock and most recovered litter was micro trash, primarily tiny pieces of glass.
Thank you to our partners, MDSP, EBRPD, MDIA, Bay Area Climbers Coalition, and Patagonia as well as the 39 volunteers that contributed 126 hours to help Mount Diablo State Park accomplish these projects!
Winter Rains
In response to the few storms at the beginning of the month, staff assessed the impact of rain across Save Mount Diablo properties.
They inspected culverts, checked fences, and looked at roads for downed trees and potential water damage.
Staff installed a series of wattles along a steep fire road at Curry Canyon Ranch to help slow down and redirect water flow off the road to reduce erosion.
As we head into December, there is more rain in the forecast that will set us and our properties up nicely for the planting season.
We just picked up a few hundred plants from the Watershed Nursery that we will put in the ground in the coming months.
Stewards in the Field
A Townsend's solitaire was recorded for the first time at Curry Canyon Ranch by one of our property stewards.
A steward for Highland Springs observed a Lewis's woodpecker and golden eagle, and all property stewards are reporting increased greenery, creek flow, and other ways the environment is responding to the rain.
This month, the Trail Dogs worked on fence removal and trail maintenance work for EBRPD and Lafayette trails, and did brush clearing along fire roads at Curry Canyon Ranch.
Companies Lend a Hand
Omron joined staff for another workday focusing on our 10,000 Trees and Plants project at Curry Canyon Ranch. The group of eight volunteers worked hard to protect another 115 tree seedlings, bringing our total up to 1,870! Thank you, Omron, for all your support!
Education and Outreach Update
Written by Denise Castro, Education and Outreach Associate
Discover Diablo Program
Sign up for any of the Discover Diablo events through Eventbrite.
November 12th On Belay: Rock Climbing was led by Save Mount Diablo Land Programs Director Sean Burke and attended by nine participants. Lots of new faces joined us for a fun climb in Pine Canyon!
November 13th Forest Bathing was led by Discover Diablo volunteer Kris Bidwell and attended by nine participants. It was a relaxing day and participants enjoyed some grounding exercises.
November 19th Twin Ponds Loop Hike led by Jean Vieth was canceled.
Thank you to all our Discover Diablo volunteers!
Dr. Mary Bowerman Science and Research Colloquium
The ninth annual Dr. Mary Bowerman Science and Research colloquium was held on Thursday, December 8, 2022.
This is a fantastic opportunity to see some of the fascinating research being done around the northern Diablo Range. Watch the recording here:

Top photo by Sean Burke