---
Looking for your next adventure? Trek through the rolling hills of Black Diamond preserve on Lougher Loop. This loop is great for running, dog walking, looking for spring flowers, mountain biking, and more!
Distance: Three miles
Elevation change: 816 feet
Difficulty: Moderate
Hiking time: Two hours
Trail surface: Fire road
Best season: Spring
Hours: 8 AM to sunset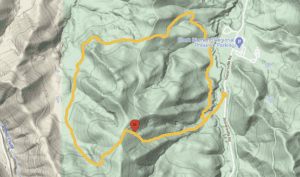 Managing agency: East Bay Regional Park District
Trailhead location: Somersville Road, across the road from Sidney Flat
Practically on the border of Pittsburg and Antioch, this scenic hike is a great one to add to your spring plans.
Once you're on this trail, it's easy to navigate. Just stay on the Lougher Loop trail for the duration of the hike and you'll end up back where you started, it's a straightforward loop!
Lougher Loop is a sunny trail, and during the spring it's a popular spot to look for wildflowers.
All this sun makes for great wildflower habitat, and hikers can expect to find a rainbow of flowers such as the bush poppy, Ithuriel's spear, and Sacramento Valley buttercup during the springtime.
Hiking this trail brings good views of Black Diamond's north side at any time of the year though. Hikers will enjoy unobstructed views of Black Diamond's historic Railroad Bed trail and gorgeous oak savannas from atop the higher elevations of this route.
Lougher Loop's wide roads make it a great spot for mountain biking even for less experienced cyclists. Be prepared to share this multi-use trail with cyclists, dogs, and horseback riders. And if you're a mountain biker, then check this trail out!
Check out our regional trail map to find more great places to hike close to home.
Top: Oak woodlands at Black Diamond Mines Regional Preserve. Photo by Scott Hein