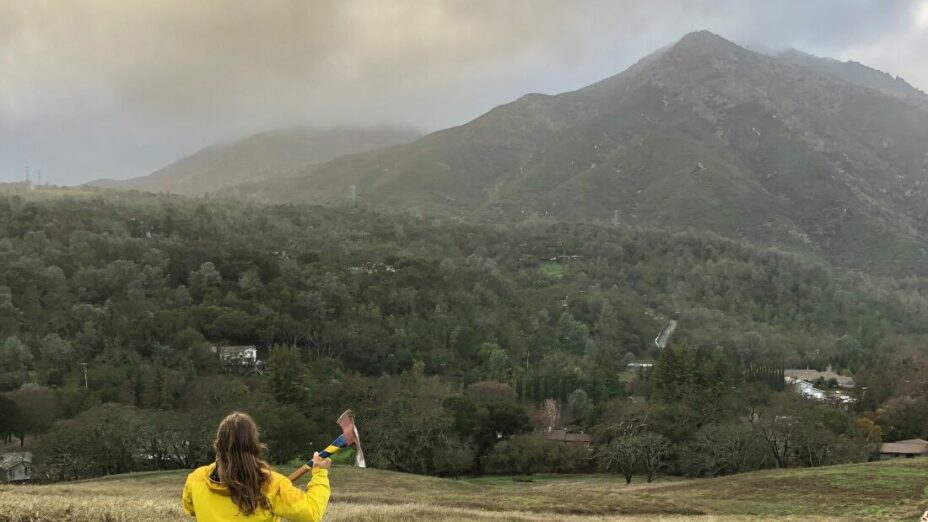 ---
From December 26 through January 11, an estimated 24.5 trillion gallons of water poured onto California. This jaw-dropping amount of water left historical damage, causing over 500 landslides since New Year's Eve, according to the California Geological Survey.
The storms impaired miles of roads, including the iconic North and South Gate Roads that wind their way towards the top of Mount Diablo.
Multiple landslides took out large chunks of the road within Mount Diablo State Park; significant portions of these roads are now one-lane routes.
Mudslides and More on Save Mount Diablo Lands
Over the past month, our stewardship staff has been monitoring storm damage on our protected lands. Every creek has been bursting with water, and brittle yellow grass has turned emerald green in days.
At Mangini Ranch Educational Preserve, Galindo Creek has come back to life with gusto, sweeping away a lot of earth and a section of trail.
Marsh Creek filled up with enough water to also sweep our bridge at Big Bend away "like Houdini."
Curry Canyon Creek completely filled up with water, saturating every canyon that connects to the creek, and moving a lot of earth.
Landslides have impacted the fire roads that vehicles use to travel to and from the state park from Curry Canyon Ranch; a lot of work will have to be done to restore access.
Within Anderson Ranch, water carved chasms into the fire roads as it made its way towards the creek, which was affected by a landslide.
Our Team at Work
Our stewardship staff members have been working nonstop to address the impacts of the recent storms.
Staff reduced mud drainage into Marsh Creek by installing hay bales along the access road to Marsh Creek 6. They have also been out at several properties digging three- to five-foot deep trenches and installing wattles to redirect water and minimize damage from runoff.
At Wright Canyon, our staff worked hard to clear blockages in the creek as well as install wattles to redirect water away from buildings.
The storms wasted no time in causing a landslide at Anderson Ranch, which was addressed promptly while the storm continued to rage.
Our staff addressed the impacts of the landslide into the creek and installed two dead-man anchors to hold a blue oak which, after the land gave way, now hangs precipitously over the creek.
When they visited Lot 25, our staff installed more wattles and sandbags to redirect water away from neighboring residential properties, preventing disastrous flooding.
Most recently, our staff worked to address erosion along a road at Curry Canyon Ranch by diverting water with trenches and filling eroded spots to reverse some of the impact.
Atmospheric Rivers: The Good and the Bad
Over three weeks, California was drenched by nine successive atmospheric rivers. These storms put three counties under major disaster declaration, prompting mass evacuations.
Of course, all this rain brought plenty of benefits with the challenges. It was enough to significantly fill our reservoirs and lift the entire state out of severe, extreme, or exceptional drought (for now). We have a large snow pack; the UC snow lab recorded that 27 feet of snow has fallen since November 1!
But much like we at Save Mount Diablo have a lot of repairs on the horizon, the damage has been significant throughout California.
It's estimated that repairing the damage could cost the state of California as much as $1 billion. This is the most expensive storm in California since 2017, when storms and their impacts caused nearly $2 billion of damage.
As we continue to grapple with the effects of climate change, we're likely to deal with increasingly frequent storm events like the recent successive atmospheric rivers.
It's important that we have the infrastructure and measures in place to prepare for similar events in the near future so that we can minimize damage. And, of course, it's important that we all take action immediately to address the climate crisis.
Top photo by Roxana Lucero