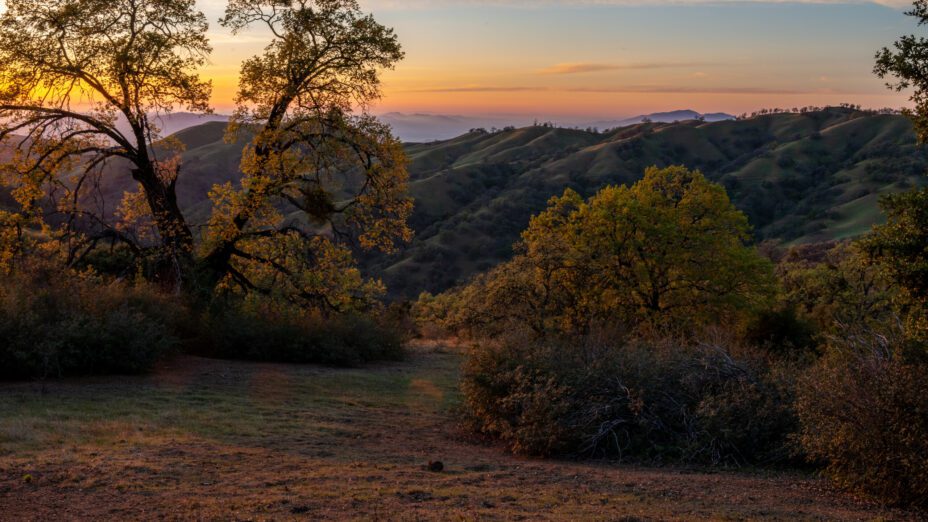 ---
Watching the sun rise or set from open space, immersed in the sounds of awakening wildlife, can be a wonderful experience.
Spending time outdoors has innumerable physical and mental health benefits, but it can be hard for those with busy schedules to find the time.
These eight areas are perfect for quick hikes or runs that can be done before or after work. Some also allow mountain biking. They're also great choices for evening or early morning walks during the warmer months of the year.
An outdoor adventure doesn't need to be an all-day affair; some of the most beautiful views in the East Bay can be seen on short hikes, runs, or rides. Brighten your day with a quick visit to one of these eight places.
Great for mountain biking and hiking, a quick hike at Lime Ridge brings hikers through oak savannas with an abundance of lizards and birds. The sunlight hits this trail beautifully during sunrise and sunset, making the grass practically glow as you look out over the ridge above Walnut Creek.
Hikers can reach some of the best views early on if they start at the trailhead near CSU East Bay; Lime Ridge doesn't require a lot of walking to enjoy some of the beautiful views that it has to offer.
It's also a very popular location to go mountain biking! The wide yet winding trails and views make it perfect for a great ride.
Get in a good workout with a view of Lafayette and the Diablo foothills on this steep trail. At the top, you can see a lot of the East Bay. It's a stunning place to watch the sunset at any time of the year. Watch out for cows because they may be grazing in the area.
This part of Briones Regional Park is incredibly close to home for residents of Lafayette, Concord, and Pleasant Hill. For residents of these cities, it's a great outdoor open space that's practically in their backyards.
Starting in the suburbs of Walnut Creek, this open space takes you through a scenic oak savanna and provides beautiful views of Mount Diablo. The trail snakes over and through rolling hills where birds such as golden eagles can be regularly seen.
Hikers on trails here can see ancient fossils from a time when it was at the bottom of the ocean. This area is one of the best places in the East Bay to learn about geologic history.
Mitchell Canyon is a flat yet scenic hike with lots to see. It's a good place to jog, bird watch, or ride your bike in the morning or evening at Mount Diablo State Park.
The trail is flat for the first mile and a half and then climbs steeply up to Juniper Campground in 5.3 miles or summits in 7.4 miles.
In the spring, this area blooms with a bounty of native flowers thanks to its proximity to Mitchell Creek. It has lots of rare and endemic wildflowers! There's even a small trail named after the Mount Diablo globe lily here.
Get in a quick climb and scramble at Sentinel Rock!
Start at Rock City and head down the Sentinel Rock trail for about a mile until you reach the distinctive Sentinel Rock. It has stairs and railings carved into it so that it can be climbed safely. Those who do the quick climb to the top are rewarded with a stunning view of Mount Diablo's backcountry.
Be aware that this route is more of a scramble than a hike in some spots; wear appropriate shoes and long sleeves—the trail can get narrow and is surrounded by a lot of Mount Diablo manzanitas and other shrubs.
An easy trail with an iconic view? You'll get that here.
The trailhead off Castle Rock Road is a very popular hiking spot for numerous reasons. Hikers can enjoy a great view of Castle Rock about two and a half miles in; you can even enjoy it with your furry friends provided they're on a leash.
It's a great option for beginner hikers and families.
This park also has a public swimming pool and basketball courts not far from the trailhead.
You can find this beautiful spot tucked into the suburbs of Walnut Creek off Rudgear Road. Sugarloaf is generally quiet and ideal for a quick morning or evening hike. There are lots of picnic tables near the entrance under the oak trees.
The main trail takes hikers to the top of a ridge overlooking Highway 680; it provides an expansive view of Walnut Creek and its neighboring cities.
Burma Road is great for a quick hike through the backcountry of Mount Diablo. Situated along North Gate Road, it's easy to access and enjoy in the morning or evening.
This fire road can be accessed at several points along North Gate Road; it stretches through Pine Canyon and connects to a lot of Mount Diablo's backcountry.
Top photo by Scott Hein