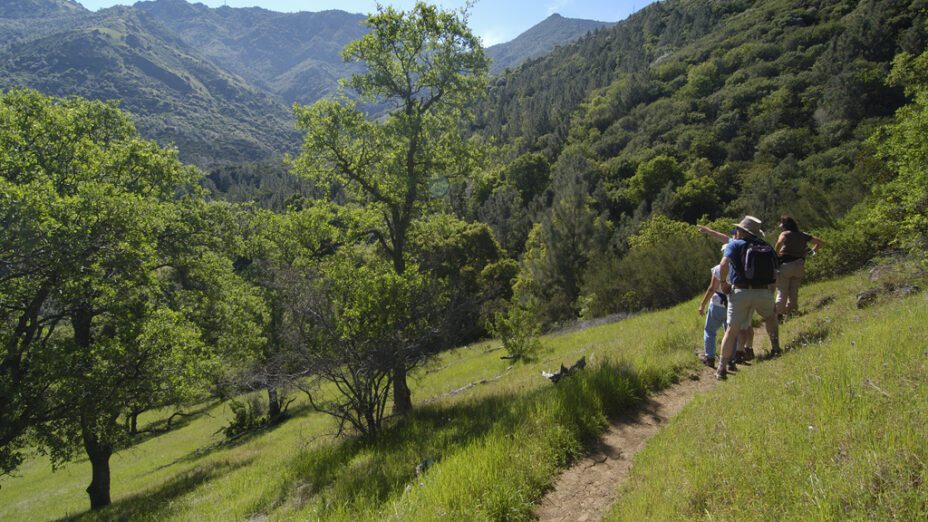 ---
If you're looking for a good spot for your next post-rain hike or mountain-biking trip, then you've come to the right place.
The rain has subsided for now, and the mountain will soon be blooming. Now's the time to get out and enjoy one of the many local trails available throughout the Diablo region!
The best spots on Mount Diablo to visit right after the rain are generally above 1,000 feet of elevation because of the nature of Mount Diablo's soil.
Soils above 1,000 feet on Mount Diablo drain much better than the clay soil at lower elevations, keeping trails drier and more stable.
Don't let the rain keep you indoors, because there are plenty of places that you can enjoy the outdoors in wet weather without ruining your shoes in the mud!
Check out these seven stunning routes that are perfect for the rainy season.
1. Mitchell Canyon to Black Point
If you're looking for a great, moderately challenging hike, then check out Black Point! It's one of Mount Diablo's less visited peaks and drains well after the rain, so the trails are safe to traverse in wetter conditions.
During the spring, this trail is populated with a wide assortment of rare and endemic flowers like the Mount Diablo globe lily.
2. Mary Bowerman Trail
Looking for an easy trail that's good for kids while providing some of the best views in the world?
The Mary Bowerman Fire Interpretive trail is a mile-long loop atop Mount Diablo that circles the summit. It has little incline, and a third of it is paved, making that part ADA compliant.
The trail provides scenic vistas at every angle from the very top of Mount Diablo. On a clear day, you'll be able to see about 200 miles out, making Half Dome and the Sierra Nevada visible from this trail.
Named after our co-founder, Dr. Mary Bowerman, the trail honors her legacy by providing an opportunity for all visitors to enjoy and learn about Mount Diablo.
Ask for a trail guide at Mount Diablo State Park's kiosk or the visitor center if you're interested in the educational aspect of this trail. You can learn about the distinctive geology and history of Mount Diablo's summit.
3. Grand Loop
The Grand Loop is a popular hike for a reason, providing a challenging and enriching six-mile trek throughout upper Mount Diablo.
Expect to see gorgeous views of the Bay Area and numerous wildlife sightings on this trail.
4. Bike Mitchell Canyon to North Peak
During the rainy season, it can be challenging to find a good spot to mountain biking. We recommend biking along Mitchell Canyon Road, to Mount Diablo's summit, and then to North Peak.
A challenging ride, this route will have you on the mountain all day, experiencing the views from two different peaks. It's also one of the best ways to get to Diablo's summit when the roads close to cars because of the snow.
5. Trail through Time
Beginning at Mount Diablo State Park's southern boundary, this challenging trail takes hikers to the Mount Diablo's summit through the numerous ancient rock formations covering Mount Diablo's south side.
It's a hike through millions of years of history and has been called "a geologic storybook."
It's a challenging trail, with 2,940 feet in elevation gain, but can be experienced in smaller sections. Try exploring the uppermost section of this trail, starting at the summit. In the upper sections, the soil drains best, and the views are one-of-a-kind.
The Mount Diablo Interpretive Association has prepared a brochure that can serve as a guide for this hike.
6. Juniper to Summit Loop
Starting at Juniper Campground, this moderate hike is a great way to experience the oak and chaparral ecosystems of Mount Diablo. Hikers can experience the changes in ecology with elevation as they travel ever higher on the mountain.
On days when the summit road is closed because of the weather, this is a great way to access Mount Diablo's summit on foot.
7. The Donner Canyon and Falls Loop
Last but certainly not least, this iconic loop isn't one to miss during the rainy season. After it rains, hikers can travel along numerous cascading waterfalls and creeks, a rare sight in the Mount Diablo area.
Keep in mind that unlike most of the trails on this list, this one can get slippery and muddy very quickly, so prepare accordingly. Expect to cross through a few creeks while admiring the beauty of Donner Canyon's extraordinary waterfalls.
The Mountain Has Become Green and Gorgeous
After all the rain we had in December and January, Mount Diablo and its foothills have become spectacularly beautiful. One place we know is extraordinary right now is Shell Ridge Open Space. But really, you can't go wrong. Where do you want to explore next?
Check out our regional trail map to find more great places to hike close to home.
Top photo by Scott Hein